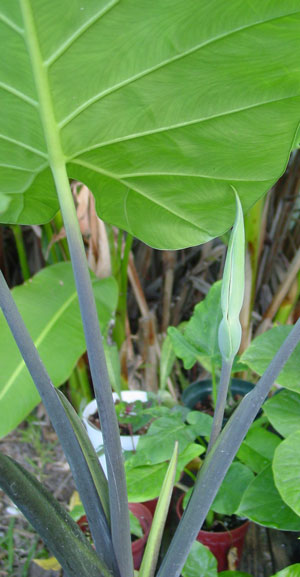 Alocasia odora "Blue"
As far as we have been able to determine, this plant is native to the area of Yunnan, China, which is at the southern end of the country. The plant seems to be at least as hardy as the "regular" A. odora, but has bloomed for us at a much smaller size than the A. odora we have worked with for so long.
Notice the bluish petioles; that is why we refer to it as the "Blue Odora". Some pictures we have seen show the bluish color going into the main veins of the leaf, but so far in our specimens, the coloration is limited to the petioles and peduncles. Some clones of this plant have coloration which is more maroon to brown than bluish. The best color shows when the plant is grown in shade; full sun will very nearly eliminate the appearance of color and will also make the leaves a much paler shade of green.
The leaves are thinner and more papery in feel than those of the A. odora; we have crossed this plant with the A. odora green type, and the leaves on the progeny are somewhat thicker.
This plant has become more widely available in the trade but is being sold as "Alocasia gigantea", which is not a valid name.