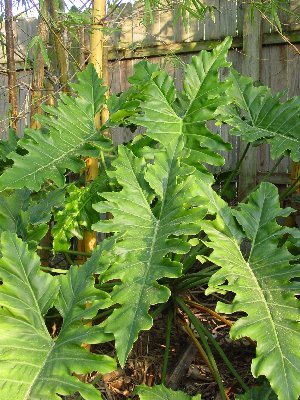 Philodendron x willoum
This plant was one of our earliest Philodendron hybrids, and it even won an award at an International Aroid Society show (see bottom picture taken at IAS Show).
When we did the cross originally, we were of the understanding that the narrow-leaved plant we used as one of the parents was known as "Philodendron williamsii", but have since found out that the correct nomenclature for the plant is Philodendron stenolobum.
The leaf blades are 4 feet or more long, with petioles of about the same or greater length. We have completed a successful hybridization between this hybrid and Philodendron sp. "dwarf speciosum", with seedlings growing on. We have also back-crossed it onto P. bipinnatifidum (selloum) successfully. Of course, we will continue in efforts to develop this plant further.
The plant grows very large, much like a well-grown typical P. selloum type.
For many years, we did not have our own blooming specimen of P. stenolobum, but now that we do, we will be able to work further with producing hybrids with our other arborescent Philodendron species.