Alocasia x Blue Blush Odora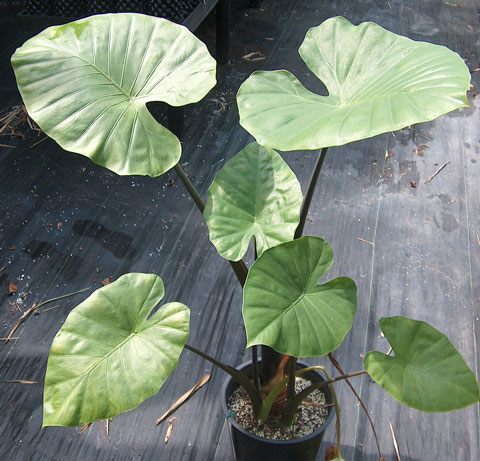 While the Alocasia odora is large, durable, and resistant to most pests, it is, after all, simply a large green plant. Therefore, we have been working to introduce more variety into the Alocasia odora hybrid types, and this work is the result of the effort to introduce colored petioles into the type.
We used the Alocasia odora "Blue" as the ovule parent and the progeny came out as a mix of green plants and those with dark petioles. The dark petiole types we have named 'Blue Blush Odora' because while when shade grown they maintain the dark purplish petiole color, when grown in brighter light or sun, the dark fades to just a bluish blush.
These have somewhat thicker leaves than the Alocasia odora, and seem to prefer part shade to full shade conditions.