Alocasia odora x Alocasia robusta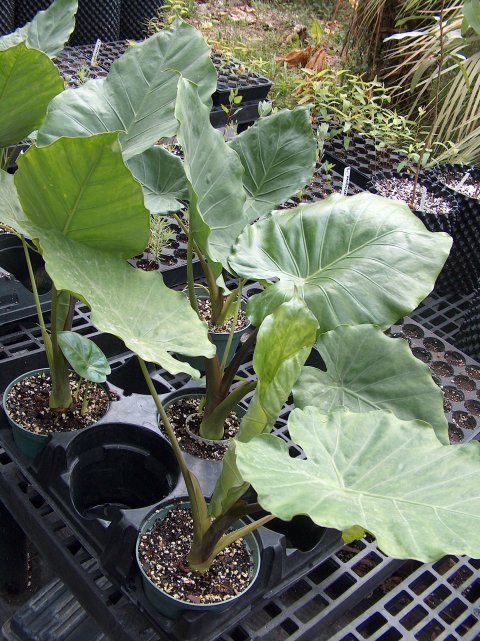 This Alocasia hybrid is one of our most sought after 2007 successes, and also one of the ones we thought we'd have to wait much longer to attempt. Alocasia odora and Alocasia robusta are like night and day with respect to hardiness and ease of growing. In every way that A. odora is easy and hardy, A. robusta is difficult and tender. While A. robusta is desired strongly by those who wish the largest possible "elephant ear" type of plant, growing it to full size continues to be a challenge well beyond the skills of the average gardener. A. x robudora, by contrast, is as easy to grow as A. odora, yet promises to yield a plant size that rivals that which the species A. robusta is reputed to achieve in native habitat.
The plants above were far from mature when the picture was taken, but the basal diameters are already much thicker than are found on A. robusta plants of the same age and size.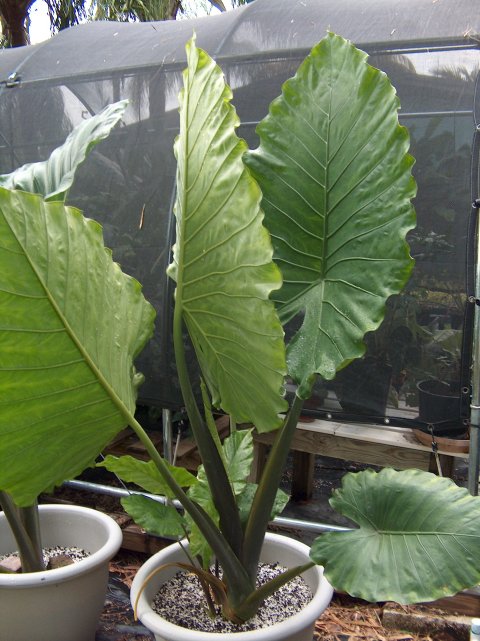 Above can be seen one selection from this cross, grown to a larger size. Note the leaf shape and petiole coloration represented. The hybrids expressed the powdery adaxial leaf characteristic seen on leaves of A. robusta.